Just in case there were any thoughts to the contrary, Cowboys owner Jerry Jones closed the book on any chance of wide receiver Dez Bryant returning to the team. The Cowboys released the three-time Pro Bowler earlier this month.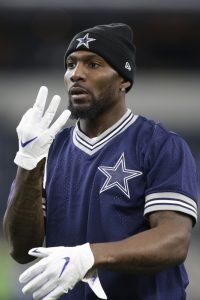 "I have no thoughts about the timing when we decided to move on [from Dez Bryant]," Jones said, via Jon Machota of the Dallas Morning News (on Twitter) "… I think a nice, crisp time to call it a day was the way to do this. We need to move on knowing that we don't have Dez."
It's certainly not a shock that the Cowboys reiterated that Bryant's tenure in Dallas is over. But the fact he's yet to sign with a team could've have raised some eyebrows.
Bryant had expressed interst in joining the NFC East rival New York Giants but NFL.com's Ian Rapoport reported last week that the Giants are not interested in signing Bryant at the moment. It's also been reported that the Jaguars and Browns are out on the Bryant sweepstakes. It was reported that the Ravens were interested in Bryant as well, though they also signed Willie Snead to an offer sheet last week.
Despite picking up Allen Hurns and Deonte Thompson in free agency, the Cowboys are still likely to pick up a receiver at some point in the draft. But they're not going to try and directly replace the workload of Bryant. They also have Terrance Williams, Cole Beasley and Ryan Switzer on the roster at wide receiver.
"I think we recognize that we have a hole to fill with Dez," Jones said, via Machota (on Twitter). We know we won't [get] a pure X receiver to replace Dez [out of this draft]."